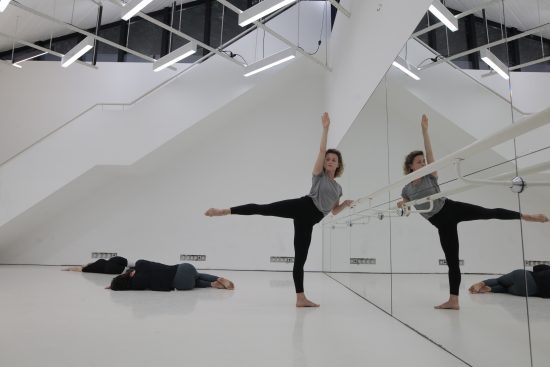 Premiered in May 2018, CHOREOGRAPHIC FANTASY No. 3 is the latest work in the series of the award-winning works that are considering the choreographic as an intuitive and a structural practice that is evoking trust in the very essence of the dance medium, exposing its fragility and enhancing its core. Dance as an affirmative production of memory is enabling understanding of the form as an articulation of aesthetic ideas and their attainments, their transformations and re-contextualisations.
Created under the working title Open Processes, this work considers a dance performance in a wider artistic perspective. It subscribes itself to dance as a process, re-establishing the tenets of historical modernism as the very aim of a dance work. By meticulously researching the individual layers of the emerging dance, CHOREOGRAPHIC FANTASY No. 3 offers an in-depth analysis of a choreographic practice, opening up new approaches to its continuous research.
Taking place on March 19-22 at the Zagreb Dance Center, this performance cycle will be accompanied by a discursive and talk program that aims to consider diverse layers of explorations, choreographic and theoretical work, by offering new optics in this ongoing choreographic research. A new book titled Choreographic Journal: seeing / vidjeti published in 2018, will also be presented by its authors and guests.
March 19
17:00 h: Performance

March 20
17:00 h: Performance
18:30 h: Form, Music, Sense: a talk with the dancers (dancers: Filipa Bavčević, Marin Lemić, Silvia Marchig, Sara Piljek, Nastasja Štefanić, moderated by dance critic Iva Nerina Sibila)

March 21
17:00 h: Performance
18:30 h: Reading Dance Talks: Choreographic Journal: seeing / vidjeti, a book presentation (with: dramaturg and editor Zee Hartmann, Prof. Dr. Lada Čale-Feldman, choreographer and author Marjana Krajač, moderated by: Srđan Sandić)

March 22
17:00 h: Performance
18:30 h: Lecture by Zee Hartmann: Negative Dramaturgies and the Development of Productive Negation
Tickets and reservations: here
More about the work: here